Covenant Christian Academy (CCA) is a PreK–12 classical and Christian school founded in 1997 by parents interested in giving their children a challenging Christian education based on the medieval model of the trivium.**
Student Body: We typically have about 230 students enrolled at CCA, including approximately 15 international students. Our students come from all areas of Harrisburg and its surrounding suburban and rural areas.
Organizational Structure: Board governed, administratively operated, parent supported

Academic Emphasis: Classical, college-preparatory
Curriculum: Upper school students take two courses in Logic, which is then integrated into their study of all subjects. They also complete three courses in Rhetoric, applying their study of eloquent speech and writing to assignments in other courses and to the presentation and defense of their senior theses. Integration between subjects is emphasized, as well as the application of a biblical worldview to all areas of study. Students are taught Latin and Spanish.
School Atmosphere: Orderly, peaceful, enthusiastic, warm
Average Class Size: 14- 18 (Kindergarten); 18-24 (grades 1-6); 16-24 (grades 7-12)

Administrative Structure: Headmaster, Upper School Dean, Grammar School Dean, and Dean of Early Education.
School Membership and Accreditation: CCA retains membership in The Association of Classical and Christian Schools and has candidacy for accreditation through the Middle States Association of Schools and Colleges.
Number of Churches Represented: Over 50

Athletic Programs: Cross-Country, boys and girls (grades 7-12); Boys Soccer (grades 7-12); Boys Basketball (grades 6-12); Girls Basketball (grades 6-12); Girls Volleyball (grades 6-12); Girls Soccer (6-12); Intramural Sports Program (K-12)

Special Programs/Electives: CCA offers a variety of electives for our students. Electives have included Hiking, Greek, Debate, Military History, School Newspaper, Choir, Chorus, Guitar, Painting, Drawing, Drama, Culinary Arts, Poetry, Tolkien Studies, Self-Defense, Conversational Chinese, Jazz Guitar, Computer Programming, Electronics, Economics.
Tuition and Financial Aid:Tuition rates for next year are available here: 2014-2015 tuition schedule. Scholarships are available and are awarded annually, for more information, visit our financial aid page.
Facility: CCA moved to its current campus in September 2009 on 24 acres of hilltop land. Our new building offers spacious classrooms, cafeteria, music room, art room, science lab, an elevator and more.
Transportation: Most public school districts will transport students to CCA so long as the edge of the bussing district is within ten miles from campus (by publicly maintained roadways). Districts currently busing students to CCA include Central Dauphin, Lower Dauphin, Susquehanna, Derry Township, Steelton-Highspire, Middletown, Harrisburg, East Pennsboro, Susquenita, West Shore, Mechanicsburg, Lebanon and Cumberland Valley.
Scholastic Aptitude Test (Highest Average of Harrisburg Area High Schools)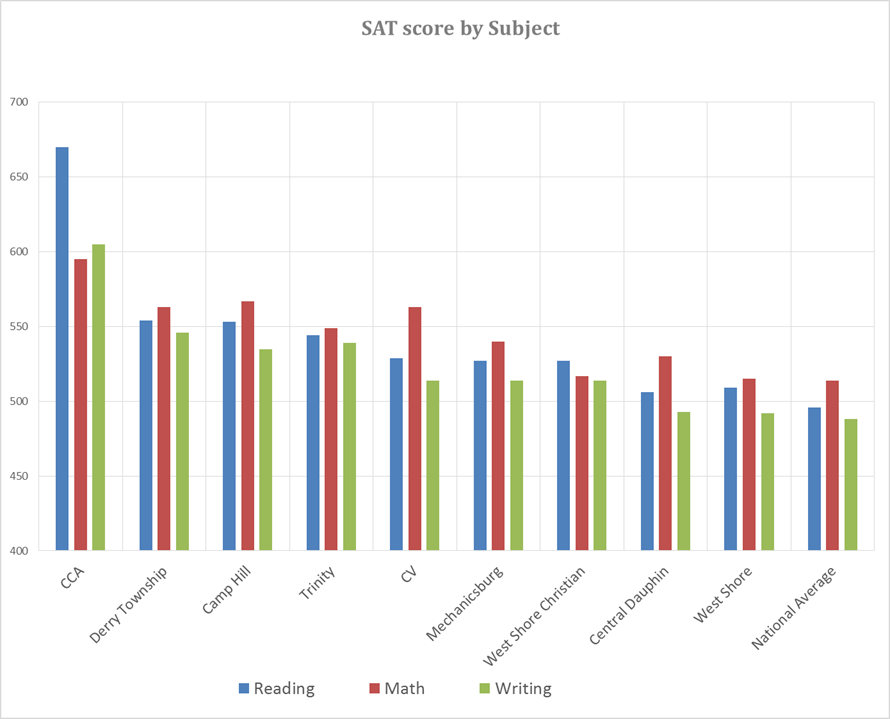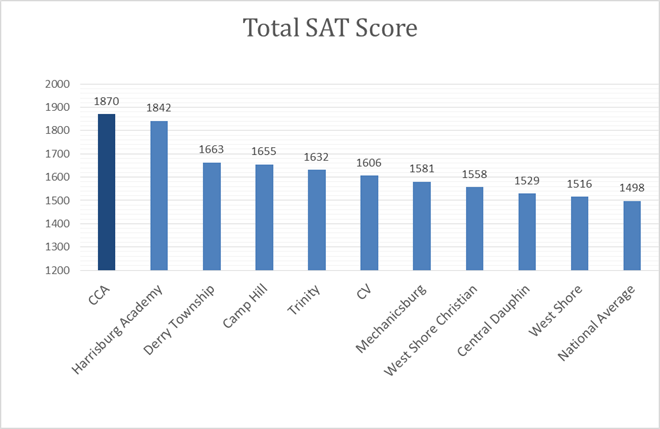 Recent National Merit Awards

Class of 2005 (six graduates) Letter of Commendation: 1 Finalist: 2
Class of 2007 (eight graduates) Letter of Commendation: 2 Scholar: 1
Class of 2009 (four graduates) Finalist: 1
Class of 2010 (six graduates) Letter of Commendation 1 Finalist: 1
Class of 2011 (sixteen graduates) Letter of Commendation: 3 Semi-Finalist: 2
Class of 2012 (ten graduates) Letter of Commendation: 2 Scholar: 1
Class of 2014 (sixteen graduates) Letter of Commendation: 3
National Merit Winners
Students Awarded a Letter of Commendation
CCA– 33%
National – 4%
Students Awarded as Finalist
CCA – 13%
National – 1.2%
Students Awarded as Scholars
CCA – 5%
National – .1%
Required Reading List for Upper School Literature Classes

Epic of Gilgamesh The Iron Ring Bhagavad-Gita
The Good Earth Tales of Ancient Egypt Huckleberry Finn
Robinson Crusoe Republic The Roman Way
The Twelve Caesars The Iliad The Odyssey
Julius Caesar Quo Vadis The Oresteia
Sophocles: Three Theban Plays Macbeth Beowulf
Ivanhoe Confessions of Augustine Song of Roland
Canterbury Tales Great Expectations Heart of Darkness
Jane Eyre Gulliver's Travels Hamlet
Pilgrim's Progress Silas Marner Out of the Silent Planet
Pride and Prejudice The Scarlet Letter Uncle Tom's Cabin
The Last of the Mohicans My Antonia The Jungle
The Great Gatsby Cry, the Beloved Country 1984
Brave New World The Grand Inquisitor The American
One Day in the Life of Ivan Denisovich A Portrait of the Artist as a Young Man
Frankenstein Dr. Jekyll & Mr. Hyde As You Like It
Waiting for Godot Death of a Salesman
Selections from:
Norton Anthology of Poetry
Norton Anthology of American Literature
Norton Anthology of World Masterpieces
CCA Graduates Have Been Accepted at the Following Colleges

Art Academy of Cincinnati Boston College Covenant College
Drexel University (Honors College) Duke University Eastern College
East Stroudsburg University Edinboro University Fordham University
Georgetown University Gordon College Grove City College
Hillsdale College Houghton College Loyola University
Maryland Institute College of Arts Messiah College Millersville University
North Park University Northeastern University Penn State Honors
Penn State University (Harrisburg) Ringling College of Art and Design
Rochester Institute of Technology Savannah College of Art and Design
Slippery Rock University St. Joseph's University University of the Arts
University of Delaware University of Pennsylvania
University of Pittsburgh (Honors College) University of Virginia Ursinus College
Villanova University Washington and Jefferson Washington and Lee
Williams College York College
**The trivium includes three stages of education: grammar, dialectic and rhetoric. During the Grammar stage, approximately K to 6th grades, students learn information set to music, rhymes or chants, have extensive training in English grammar, and begin to learn Spanish. The Dialectic stage encompasses 7th to 9th grades and is characterized by discussion and debate in all subjects. Their formal training in Logic is expected to be applied in all areas of study. Grades 10–12 make up the Rhetoric stage which emphasizes eloquent writing and speech. Students examine both historical and contemporary pieces of writing and oratory for structure, style and effectiveness. They are expected to apply the study of rhetoric to their work in all other courses.